Stainless Steel Header Assembly Header Laterals
| | |
| --- | --- |
| Category: | Profile Screen Laterals |
| Material: | stainless steel |
| Properties: | wedge wire screen |
| Application: | water desalination treatment, running water treatment, water softening treatment; the petroleum industry, the petroleum product terminal filters |
if you are interested in receiving more information or have a question with our products, please fill out the form above and we will contact you within 24-48 hours.
Email:sales@ubowire.com
Details of Stainless Steel Header Assembly Header Laterals
Hub laterals by UBO Screens promote even distribution while also avoiding flow/pressure concentrations. The non-plugging hub style design is ideal for accommodating disc head vessels. Made to your specification of size, open area and material, you can expect easy maintenance and exceptional long-term durability. UBO Screens builds hub laterals to your specifications for material, wire and rod size as well as open area.
Applications for Stainless Steel Header Laterals:
Wedge Wire screen hub laterals are applied in deep well pump to dive the water pump, in the water-treating equipment, the environmental protection, the sea water transforms into the industrial water and life use water desalination treatment, running water treatment, water softening treatment; the petroleum industry, the petroleum product terminal filters; and the chemical acid, the alkali liquid filters, the ethyl alcohol and the organic solution recycling filters.
Features for Stainless Steel Header Laterals:
1) Screens with high open area are more suitable for the construction of high-quality water wells, oil wells and gas wells.
2) Low cost operation.
3) Reduce the abrasion of the pump.
4) Extend the life span of well.
Specifications of Stainless Steel Header Assembly Header Laterals: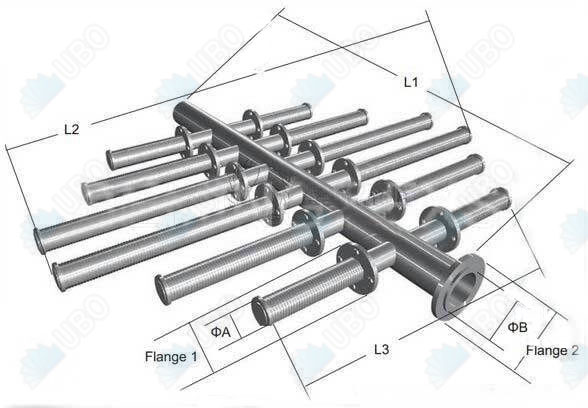 Type

Slots

ФA

ФB

L1

L2

L3

Pipe no

Flange1 DN

Flange2 DN

Length L

99,127,157,

199,224,254,

284,326,351,

538,508,607,

635,665,707,

792,834,861,

889,919,

1016,1046,

1088

AME

0.05

0.1

0.2

0.3

0.5

1

32

40

57

76

89

76

89

108

133

159

219

1100

1280

1500

1700

1800

2000

2500

3200

420

480

600

680

720

1100

1280

1500

1700

1800

6

8

10

12

25

32

40

50

65

80

50

65

80

100

125

150
Packaging and Transportation of Stainless Steel Header Assembly Header Laterals:
You may also be interested in the following product(s)