wedge wire hub assembly supplier
| | |
| --- | --- |
| Category: | Profile Screen Laterals |
| Material: | stainless steel 304,304L,316,316L,321,430 or as per your request. |
| Properties: | lateral systems |
| Application: | solid-liquid separation and recovery. Especially for beer waste water, papermaking wastewater, slaughtering waste water, juice processing wastewater |
if you are interested in receiving more information or have a question with our products, please fill out the form above and we will contact you within 24-48 hours.
Email:sales@ubowire.com
Author: eva
Details of wedge wire hub assembly supplier
Wedge wire hub assembly is widely used in the under draining applications with the features of effective filtering and screening performance. wedge wire hub are a typical screen type used in the under draining.
Wedge wire hub assembly, also called header lateral assemblies, are assemblies of horizontal herring bone style wedge wire screen laterals and vertical secured round hub. The wedge wire hub assemblyhas inherent even pattern, which is made of stainless steel, hastelloy alloy steel and other alloy steels. The wedge wire hub assembly has various slot size, wire size and diameters to suit common or customized applications.


Application of wedge wire hub assembly
Application in deep well pump to dive the water pump, in the water-treating equipment, the environmental protection, the sea water transforms into the industrial water and life use water desalination treatment, running water treatment, water softening treatment; the petroleum industry, the petroleum product terminal filters; and the chemical acid, the alkali liquid filters, the ethyl alcohol and the organic solution recycling filters.
Advantages of wedge wire hub assembly
With the advantage of thewedge wire hub assembly,large flow area, uniform water distribution, high mechanical strength,temperature resistance, pressure resistance, aging resistance,corrosion resistance have been greatly improved. Even if the branch pipe bending occurs, the resin still can't flow out.Stainless steel wire slot size can be designed according to the resin size.
Specifications of wedge wire hub assembly supplier: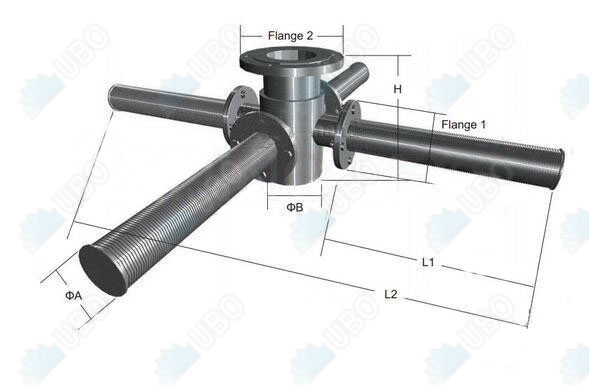 | | | | |
| --- | --- | --- | --- |
| nominal diameter | Branch diameter | Branch Qty | The specification of the nominal flange |
| 1500 | 45-76 | 4-12 | DN100 |
| 2000 | 45-76 | 4-12 | DN125 |
| 2500 | 57-89 | 4-12 | DN150 |
| 3000 | 57-108 | 4-12 | DN200 |
| 3200 | 57-108 | 4-12 | DN200 |
Packaging and Transportation of wedge wire hub assembly supplier:
You may also be interested in the following product(s)