V Wire Screen Resin Trap
| | |
| --- | --- |
| Category: | Resin Traps |
| Material: | stainless steel 304,304L,304HC,316,316L,321,430 or as per your request. |
| Properties: | Resin Traps |
| Application: | water-treatment,beer brewing,water well drilling ,oil well drilling ,mineral processing, coal-cleaning plant,refining & petrochemical |
if you are interested in receiving more information or have a question with our products, please fill out the form above and we will contact you within 24-48 hours.
Email:sales@ubowire.com
Author: eva
Details of V Wire Screen Resin Trap
v wire screen resin trap is normally closed on one side and has a flange on the other. They can be made for flow-in-to-out (FITO) or flow-out-to-in (FOTI) filtration.v wire screen resin trap is often used in tubes to block unwanted particles or dirt that would otherwise damage downstream equipment. Cleaning is carried out by removing the strainer from the tube.
Application of V Wire Screen Resin Trap
Resin traps always applicated in deep well pump to dive the water pump, in the water-treating equipment, the environmental protection, the sea water transforms into the industrial water and life use water desalination treatment, running water treatment, water softening treatment; the petroleum industry, the petroleum product terminal filters; and the chemical acid, the alkali liquid filters, the ethyl alcohol and the organic solution recycling filters.
Features of V Wire Screen Resin Trap
-- High open area.
-- High filtering and screening performance.
-- Various ending types.
-- Temperature resistance.
-- Corrosion and rust resistance.
-- Non-clogging.
-- Easy to install and replace.
-- Low maintenance cost.
-- Durable and long service life.
-- Suit different application.
Advantage of Lateral Pipe for Resin Trap
·Continuous slot opening significantly increases the available open area, thus providing greater access to the water bearing zone.
· A "V"shaped profile wire avoids clogging and ensures an uninterrupted flow.
· V-wire welded screens have a robust structure and large open area, as well as accurate slot dimension.
· V-wire welded water well screens have the features of easy backwashing, long service life, high safety and reliability and competitive price.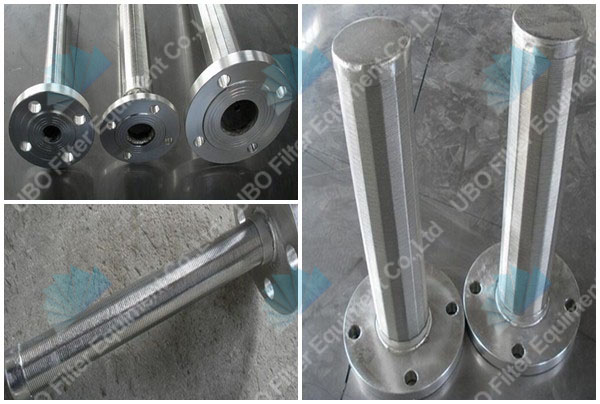 Specifications of V Wire Screen Resin Trap:
Specification (wedge wire):

Width(mm): 1.50 1.80 2.30 3.00 3.30 3.70

Height(mm): 2.20 2.50 2.70 3.60 4.30 4.70 5.60 6.30 7.00

Specification (support rod):

Width(mm): 2.30 3.00 3.30 3.70

Height(mm): 2.70 3.60 4.70 5.60 6.30

Note: other specifications available as per request

0.10, 0.15, 0.20, 0.25, 0.30…… 6.00mm also achieved upon request.

galvanized low carton (LCG), stainless steel (304,316 etc.)

Plain beveled ends, flanged or threaded couplings



Packaging and Transportation of V Wire Screen Resin Trap:
You may also be interested in the following product(s)