sidehill dewatering screen
| | |
| --- | --- |
| Category: | Sieve Bend Screen |
| Material: | stainless steel 304,304L,316,316L,321,430 or as per your request. |
| Properties: | sieve bend screen |
| Application: | water-treatment,beer brewing,water well drilling ,oil well drilling ,mineral processing, coal-cleaning plant,refining & petrochemical |
if you are interested in receiving more information or have a question with our products, please fill out the form above and we will contact you within 24-48 hours.
Email:sales@ubowire.com
Author: eva
Details of sidehill dewatering screen
The sidehill dewatering screen retains the solids on the surface of the screen from where they are removed by the movement down the slope of the screen. The filtered liquid falls through the screen and creates a self-cleaning effect. The solids are thrown out by the gliding down the slope and can be collected in a stainless-steel drain container.

And each screen is designed and manufactured to ensure complete customer satisfaction. The wedge wire dewatering curve bend screen panel are made from two elements the V-shaped wedge wire is helically wound around an array of internal longitudinal support rods. Each intersection of wire and rods is automatically resistance welded, creating a very strong cage-like cylinder with one continuous slot spiralling along its full length. The gap between the wires, also called slot or aperture, is manufactured to customer specification, allows water to flow from the surrounding aquifer into the screen.

All our sidehill dewatering screen can be supplied in standard material of SS304/ SS316/ SS316L. Many other material grades are available on request.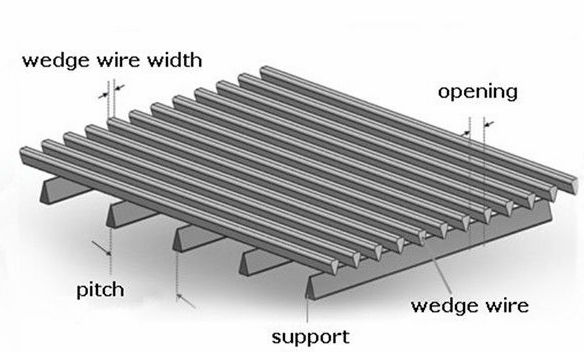 Advantage of sidehill dewatering screen

1) Non Plugging slots
2) V-shaped wire creating, two point particle contact preventing plugging.
3) Inwardly opening slots (in-flow) preventing sand particles from remaining lodged in screen.
4) The V-shaped wire enhances well efficiency, ensures consistent pumping and long well life.
5) Large Open Area
The continuous slot wedge wire offers higher open area than any other type of screens used for water well applications, such as slotted pipe, punched pipe, louver screens.
7) Wedge wires for each application are selected to maximize open area, resulting in the lowest possible cost for water extraction.
Application of sidehill dewatering screen
The SS slot wire dewatering curve bend screen panel are manufactured to suit a wide range of industries such as Sugar, Coal Mining & Quarrying, Mineral Processing, Cement, and Industrial & Urban Effluent Treatment etc. Sieve bend screens are also used as a pre-filter in urban & industrial waste treatment plants to improve the performance of the clarifier by drastically reducing the load. Widely used for fiber removal in Starch industry.

Specifications of sidehill dewatering screen: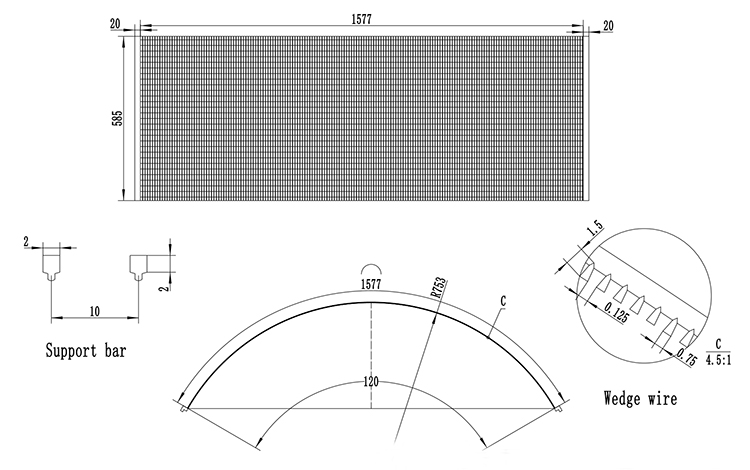 Material
SS304, SS304L, SS316, SS316L, SS321, Duplex, Hastelloy, etc
Length Range
Up to 6000mm
Width Range
Up to 6000mm
Slot Range
20 micron to 3000 micron (Tolerance:+-5 micron)
Wedge Wire
0.5x1.5
0.75x1.5
1x2
1.5x2.5
2x3
2x4
3x5
Support Rod
1.5x2.5
2x3
1.5x2.5
2x3
1.5*2.5
2x3
2x3
3*5
3x5
3x5
4*6
5*8
Angle
90°,120°,140°,150°,160° etc.
Arc height
10mm,15mm,20mm,50mm or depend on you size of screen panel.
Frame
No frame or " L" type frame, ordinary frame, 5*10mm frame etc, according to your request.
Note
Customized according to requirement
Packaging and Transportation of sidehill dewatering screen:
You may also be interested in the following product(s)