Welded v wire stainless steel filter screen tube on sale
| | |
| --- | --- |
| Category: | Wedge Wire Pipe&Cylinder |
| Material: | stainless steel 304,304L,316,316L,321,430 or as per your request. |
| Properties: | filter screen tube |
| Application: | water-treatment,beer brewing,water well drilling ,oil well drilling ,mineral processing, coal-cleaning plant, refining & petrochemical |
if you are interested in receiving more information or have a question with our products, please fill out the form above and we will contact you within 24-48 hours.
Email:sales@ubowire.com
Author: Sally
Details of Welded v wire stainless steel filter screen tube on sale
UBO Welded v wire stainless steel filter screen tube are manufactured directly on a machine. They have the unique advantage of very accurate, narrow slot openings and perfect roundness all in one. Welded v wire stainless steel filter screen tube can be provided with the necessary end pieces for attachments and/or reinforcements.
Welded v wire stainless steel filter screen tube are welded structures with the support profiles being rods in the axial direction of the tube and surface profiles spirally wound around the support profiles. This is also called Full-welded wire wrapped screen which adopts V-shaped wire and V-shaped rod or round rod. The wire is welded onto the rod at each intersection point. The diameter of inner bore and outer bore can be welded as different size,with smooth filtering surface can fulfill filtration high efficiently.
Advanages of welded v wire screen tube filter
1) In industrial filtration,solid will be held back in the smooth surface of the filter tubes forming granular layer and small particles will outflow the V-shaped gap without clogging.

2) A continuous slot opening which significantly increases the available open area,thus provide greater access to the water bearing zone.V-shaped profile wire which avoids clogging and ensures an uniterrupted flow.

3) Screen with high open area are more suitable for the construction of high-quality water wells,oilwells and gas wells. With low operation cost and high filter efficiency,screen with high open area shall favor groundwater infiltration.Abundant water shall reduce the water level's down,thus to reduce energy consumption. Reduce the abrasion of the pump,under the same condition,high open area can make the speed of groundwater's entering into the screen much more slower than any other filtration apparatus, which will avoid sand's entering into screen because of high pressure,thus reduce the abrasion of the pump impeller. Exten the life span of the wells, groundwater's entering into screen with higher open area is much easier than the entering into lower open area screen. The slow water flow shall exten the life span of the wells.
Applications of welded v wire screen tube filter
-- Petroleum industry. Oil filtration.
-- Water treatment industry. Desalination of seawater, treatment of industrial water and domestic water. Water softening treatment.

-- Chemical industry. End products of chemical organic solution filtration, such as acid, alkali liquid filtration, alcohol and other products filtering.
-- Hydro-geological exploration.

-- Drilling construction.
-- Geothermal development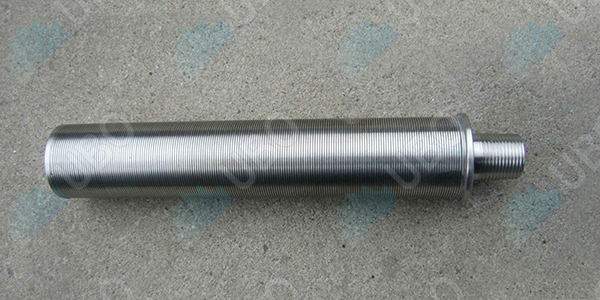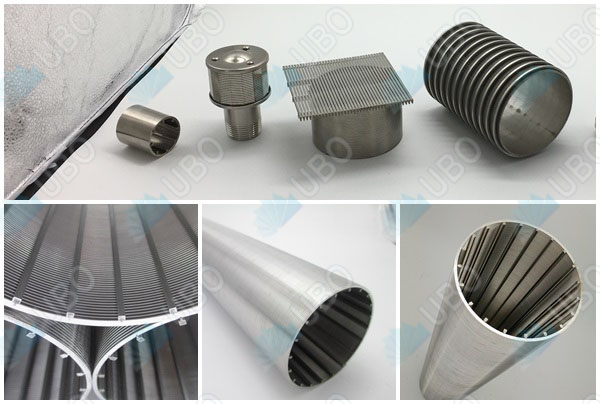 Specifications of Welded v wire stainless steel filter screen tube on sale: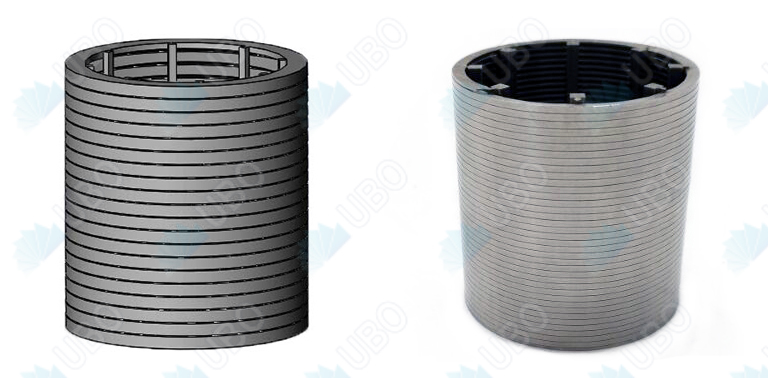 Specification (wedge wire):

Width(mm): 1.50 1.80 2.30 3.00 3.30 3.70
Height(mm): 2.20 2.50 2.70 3.60 4.30 4.70 5.60 6.30 7.00

Specification (support rod):

Width(mm): 2.30 3.00 3.30 3.70
Height(mm): 2.70 3.60 4.70 5.60 6.30

Note: other specifications available as per request

Slot size

0.10, 0.15, 0.20, 0.25, 0.30…… 6.00mm also achieved upon request.

Material:

galvanized low carton (LCG), stainless steel (304,316 etc.)

Length

up to 6 meters.

Diameter

from 25mm to 1200mm.

End connection

Plain beveled ends, flanged or threaded couplings
Packaging and Transportation of Welded v wire stainless steel filter screen tube on sale:
You may also be interested in the following product(s)