mining wedge wire welded filter tube supplier
| | |
| --- | --- |
| Category: | Wedge Wire Pipe&Cylinder |
| Material: | stainless steel 304,304L,316,316L,321,430 or as per your request. |
| Properties: | wedge wire screen pipe |
| Application: | water-treatment,beer brewing,water well drilling ,oil well drilling ,mineral processing, coal-cleaning plant, refining & petrochemical |
if you are interested in receiving more information or have a question with our products, please fill out the form above and we will contact you within 24-48 hours.
Email:sales@ubowire.com
Author: eva
Details of mining wedge wire welded filter tube supplier
Wedge wire welded filter tube is the dominant screen type used in the mining industry. this type of screen is constructed by winding cold rolled triangular wedge wire around a circular array of longitudinal rods. the wire is welded to the rods and produces a rigid unit that has high strength and minimum weight.
Features for mining wedge wire welded filter tube:
1) Wedge wire welded filter are considered the standard of the industry, combining proven performance with durability
2) Low-carbon, galvanized or stainless steel construction
3) Provide optimum well development and access to the aquifer
4) Large open area:.
5) Water enters at lower velocity, reducing screen surface erosion and encrustation
6) Designed and constructed to operate under different depth conditions, with the optimum strength / open area ratio
7) Other installation depth designs available upon requests
8) Non clogging: is self-cleaning and ensures an uninterrupted flow. Sand grains make only two point contact and don't wedge in the screen's inwardly enlarging slot.
Characteristic for mining wedge wire welded filter tube:
1) Screens with high open area are more suitable for the construction of high-quality water wells, oil wells and gas wells.
2) Low cost operation
Screens with high open area shall favor groundwater infiltration.
Abundant water shall reduce the water levels down, thus to save energy consumption.
3) Reduce the abrasion of the pump
Under the same condition, high open area can make the speed of groundwaters entering into the screen much slower than any other filtration apparatus, which will avoid sands entering into screen because of high pressure, thus reduce the abrasion of the pump
4) Extend the life span of wells
Comparatively, groundwaters entering into screen with higher open area is much easier than the entering into lower open area screen. The slow water flow shall extend the life span of wells
Technical parameter for mining wedge wire welded filter tube:
The V-shaped wire can be made in different height and width to address various strength application, meanwhile, the spacing of individual slots can be varied during fabrication if geologic conditions require these variations in a screen's construction.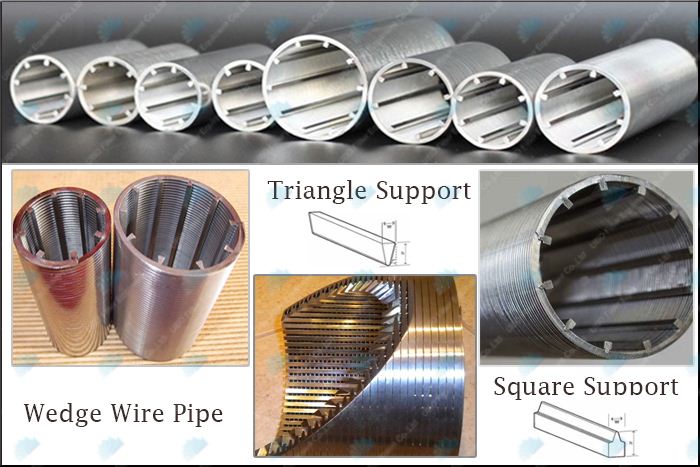 Specifications of mining wedge wire welded filter tube supplier:

| | | | | | | |
| --- | --- | --- | --- | --- | --- | --- |
| Basepipe OD (in) | Perforations per foot | Basepipe Hole Size (in) | Open Area of Basepipe Holes (in2/ft) | Wrap Wire Size Keystone (in) | Rib Wire Size Round (in) | Maximum OD (in) |
| 1.05 | 54 | 0.312 | 4.14 | 0.09*0.09 | 0.125 | 1.489 |
| 1.315 | 66 | 0.312 | 5.06 | 0.09*0.09 | 0.125 | 1.726 |
| 1.66 | 78 | 0.312 | 5.98 | 0.09*0.09 | 0.125 | 2.126 |
| 1.90 | 42 | 0.375 | 4.63 | 0.09*0.09 | 0.125 | 2.387 |
| 2.063 | 42 | 0.375 | 4.63 | 0.09*0.09 | 0.125 | 2.55 |
| 2.375 | 54 | 0.375 | 5.96 | 0.09*0.09 | 0.125 | 2.86 |
| 2.875 | 66 | 0.375 | 7.28 | 0.09*0.09 | 0.125 | 3.362 |
| 3.25 | 78 | 0.375 | 8.61 | 0.09*0.09 | 0.125 | 3.737 |
| 3.50 | 78 | 0.375 | 8.61 | 0.09*0.09 | 0.125 | 3.987 |
| 4.00 | 90 | 0.375 | 9.94 | 0.09*0.09 | 0.125 | 4.487 |
| 4.50 | 102 | 0.375 | 11.26 | 0.09*0.09 | 0.125 | 5.001 |
| 5.00 | 114 | 0.375 | 12.59 | 0.09*0.09 | 0.125 | 5.506 |
Packaging and Transportation of mining wedge wire welded filter tube supplier:
You may also be interested in the following product(s)