oil well slot screen manufacturer
| | |
| --- | --- |
| Category: | Wedge Wire Pipe&Cylinder |
| Material: | stainless steel 304,304L,316,316L,321,430 or as per your request. |
| Properties: | wedge wire screen pipe |
| Application: | water-treatment,beer brewing,mineral processing, coal-cleaning plant, refining & petrochemical |
if you are interested in receiving more information or have a question with our products, please fill out the form above and we will contact you within 24-48 hours.
Email:sales@ubowire.com
Details of oil well slot screen manufacturer
Wedge wire screen are made during simultaneous winding of specially profiled working wires on a spiral and welding them to carrying wires placed along the tube. This technology allows the production of wedge wire screens when very high gap precision and screen resistance are required. Due to using the newest welding technology we can obtain various distances between carrying wires, very accurate and repeatable gap and therefore produce screens according to customer's particular requirements.
Advantages of
V-wire Slot Screen Pipe
-- Flat surface
-- Excellent filtering performance.
-- Accurate distance between supporting profile.
-- Welded production process for solid and strong structure.
-- Good mechanical properties.
-- High strength.
-- High load capacity.
-- Corrosion and rust resistance.
-- Temperature resistance.
-- Chemical stability.
Features of
V-wire Slot Screen Pipe
1. Screens with high open area are more suitable for the construction of high-quality water wells, oil wells and gas wells.
2. Low cost operation Screens with high open area shall favor groundwater infiltration. Abundant water shall reduce the water levels down, thus to save energy consumption.
3. Reduce the abrasion of the pump
Under the same condition, high open area can make the speed of groundwaters entering into the screen much slower than any other filtration apparatus, which will avoid sands entering into screen because of high pressure, thus reduce the abrasion of the pump.
4. Extend the life span of wells
Comparatively, groundwaters entering into screen with higher open area is much easier than the entering into lower open area screen. The slow water flow shall extend the life span of wells.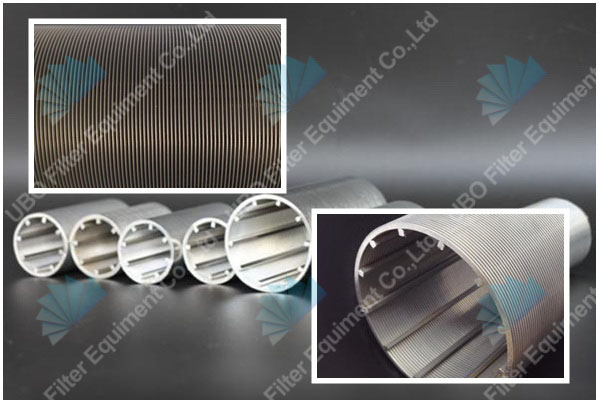 Specifications of oil well slot screen manufacturer:

SLOT

(INCH)

LENGTH

(m)

WIDTH

(m)

COLLAPSE

STERENG

(PSI)

TENSILE

WEIGHT

(TON)

WRAP

(thick*deep)

(mm)

RODS

(mm)

0.04

1-6

0.5-2

395

6

2.2*3.0

3.8mm/22

0.04

1-6

0.5-2

395

6

2.3*3.0

3.8mm/22

0.04

1-6

0.5-2

252

8

2.3*3.5

3.8mm/32

0.01

1-6

0.5-2

399

10.5

3.0*5.0

3.8mm/48

0.02

1-6

0.5-2

370

10.5

3.0*5.0

3.8mm/48

0.04

1-6

0.5-2

323

10.5

3.0*5.0

3.8mm/48

0.01

1-6

0.5-2

206

11

3.0*5.0

3.8mm/50

0.02

1-6

0.5-2

191

11

3.0*5.0

3.8mm/50

0.04

1-6

0.5-2

167

11

3.0*5.0

3.8mm/50
Packaging and Transportation of oil well slot screen manufacturer:
You may also be interested in the following product(s)