wedge wire screen specification
| | |
| --- | --- |
| Category: | Wedge Wire Pipe&Cylinder |
| Material: | stainless steel 304,304L,316,316L,321,430 or as per your request. |
| Properties: | wedge wire pipe |
| Application: | water-treatment,beer brewing,water well drilling ,oil well drilling ,mineral processing, coal-cleaning plant,refining & petrochemical |
if you are interested in receiving more information or have a question with our products, please fill out the form above and we will contact you within 24-48 hours.
Email:sales@ubowire.com
Author: eva
Details of wedge wire screen specification
Wedge wire screen are made during simultaneous winding of specially profiled working wires on a spiral and welding them to carrying wires placed along the tube. This technology allows the production of wedge wire screens when very high gap precision and screen resistance are required. Due to using the newest welding technology we can obtain various distances between carrying wires, very accurate and repeatable gap and therefore produce screens according to customer's particular requirements.
Application for wedge wire screen
Used in industries such as Sugar, Coal Mining & Quarrying, Mineral Processing, Cement, and Industrial & Urban Effluent Treatment etc.
Used as a pre-filter in urban & industrial waste treatment plants to improve the performance of the clarifier by drastically reducing the load.
Used for fiber removal in Starch industry.
Feature for wedge wire screen
1.The V-shape section plane of Wedge wire screen pipe (Johnson screens) creates the continuous slot, which can avoid blockage and make sure of the unimpeded water.
2. The consecutive slot of Wedge wire screen pipe (Johnson screens) have wider open area, and it can reduce the speed of the water entering to avoid the sand entering the screen under the great pressure, so it can control sand better, which can increase the water yield and prolong service time of the well.
3. Wire and support rods are all-welded, which makes the Wedge wire screen pipe (Johnson screens) more robust and longer life.
4. The longitudinal support rods and the continuous slot make the Wedge wire screen pipe (Johnson screens) have more excellent pressure-resistant performance.
5. Specifications and end connections of Wedge wire screen pipe (Johnson screens) can be fabricated according to customers' requirements.
Construction for wedge wire screen
1.We use wedge-shaped profile wire in order to make the slot v-shaped.It can stop the impurities very well.
2.The wedge wire was welded on the support wire well-proportioned and have perfect roundness. Ensure the strainer have bigger filter area and non obstructive, avoid the high concentration of impurities.
3.After work for a period of time, the strainer can be back flush.It can use for many times.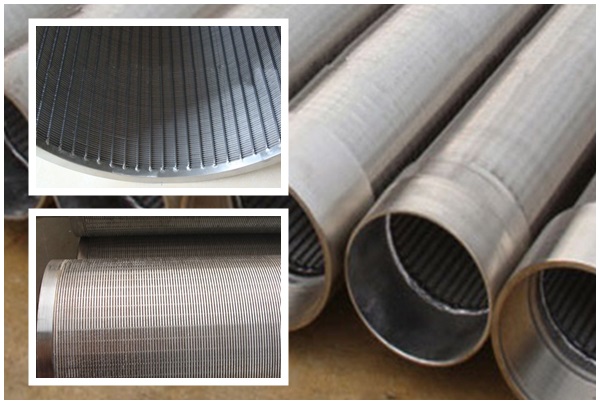 Specifications of wedge wire screen specification:
Slot

mm

Opening

%

Weight

Kg/㎡

Slot

mm

Opening

%

Weight

Kg/㎡

Slot

mm

Opening

%

Weight

Kg/㎡

0.25

14.3

22.0

0.25

10.2

25.9

0.25

8.2

30.8

0.30

16.7

21.5

0.30

12.0

25.4

0.30

9.7

30.3

0.35

18.9

21.0

0.35

13.7

24.9

0.35

11.1

29.8

0.40

21.1

20.5

0.40

15.4

24.4

0.40

12.5

29.3

0.50

25.0

19.5

0.50

18.5

23.9

0.50

15.2

28.8

0.75

33.3

18.1

0.75

25.4

22.0

0.75

21.1

26.9

1.00

40.0

16.1

1.00

31.3

20.5

1.00

26.3

25.4

1.25

45.5

15.1

1.25

30.2

19.5

1.25

30.9

23.9

1.50

50.0

14.2

1.50

40.5

18.1

1.50

34.9

23.0

2.00

57.1

12.2

2.00

47.6

16.6

2.00

41.7

21.0

6.00

-

-

6.00

73.2

10.3

6.00

68.2

13.2

8.00

-

-

8.00

-

-

8.00

74.1

11.2
Packaging and Transportation of wedge wire screen specification:
You may also be interested in the following product(s)