wedge wire screens
| | |
| --- | --- |
| Category: | Wedge Wire Pipe&Cylinder |
| Material: | stainless steel 304,304L,316,316L,321,430 or as per your request. |
| Properties: | wedge wire screen pipe |
| Application: | solid-liquid separation and recovery. Especially for beer waste water, papermaking wastewater, slaughtering waste water, juice processing wastewater |
if you are interested in receiving more information or have a question with our products, please fill out the form above and we will contact you within 24-48 hours.
Email:sales@ubowire.com
Author: Sally
Details of wedge wire screens
wedge wire screens also named Wedge Wire Screen.It consist of Wedge Wire and suppot rod.Their link parts adopt TIG welding way.The V or wedge shaped profile wire wraps around the support rods over the full length of the screen creating a continuous slot opening, hence the screen allows water (oil) to enter your well freely in ample quantities while at the same time keeps the majority of sand and gravel out of the well.
Application of wedge wire screens
wedge wire screens are used as rotary screens, collectors such as screen laterals and nozzles, resin traps, in-line strainers, water intake screens, well screens, as well as many other applications involving liquid / solids separation.
Advantages of wedge wire screens
The wedge wire screens is composed of rod strips and V shaped wires through manufacturing on specialized welding machine. The rib strips and V shaped wires will be welded by resistance welding, has enough welding strength, equally slot gap, high corrosion resistance, large filter area, good permeability, simple structure.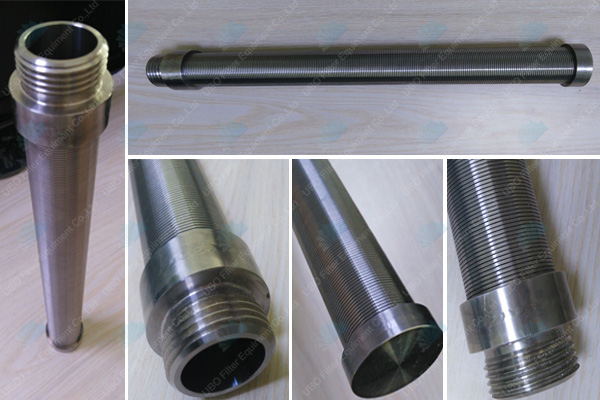 Specifications of wedge wire screens:
| | | | | | |
| --- | --- | --- | --- | --- | --- |
| No. | (mm)TYPE | OD (mm) | ID (mm) | Support wire Number | Filter direction |
| 1 | SRD25.4 | 25.4 | 18.6 | 12 | FOTI |
| 2 | SRD 33 | 33 | 24 | 8 | FOTI |
| 3 | SRD 37 | 37 | 28 | 8 | FOTI |
| 4 | SRD 40 | 40 | 31 | 8/10 | FOTI/FITO |
| 5 | SRD 45 | 45 | 36 | 10/12 | FOTI/FITO |
| 6 | SRD 48 | 48 | 38 | 12 | FOTI/FITO |
| 7 | SRD 60 | 60 | 51 | 12 | FOTI/FITO |
| 8 | SRD 70 | 70 | 61 | 12/18 | FOTI/FITO |
| 9 | SRD 85 | 85 | 76 | 18 | FOTI/FITO |
| 10 | SRD 110 | 110 | 101 | 24 | FOTI/FITO |
| 11 | SRD120 | 120 | 111 | 24 | FOTI/FITO |
Packaging and Transportation of wedge wire screens:
You may also be interested in the following product(s)