Mash Tun False Bottom for Brewing Beer
| | |
| --- | --- |
| Category: | Wedge Wire Screen Panel |
| Material: | stainless steel 304,304L,316,316L, |
| Properties: | false bottom |
| Application: | lauter tun , mash tun, brewing system filtration, lauter tuns in breweries, On the mash hot water is applied to create the wort |
if you are interested in receiving more information or have a question with our products, please fill out the form above and we will contact you within 24-48 hours.
Email:sales@ubowire.com
Author: eva
Details of Mash Tun False Bottom for Brewing Beer
YUBO company gradually become a larger wedge wire mash tun false bottom for brewing beer supplier.Mash tun false bottom ususally use in the berwing beer mashing process.This processIt is necessary not only in hydrating the grains but also activating the malt enzymes so that the grain starches are converted to fermentable sugars. Without the process of mashing, the grain bills will not produce enough sugar for the liquid wort to ferment.
Application of Mash Tun False Bottom
Wedge wire false bottom,used in the lauter tuns inbreweries. On the mash hot water is applied to create the wort. The false bottom consists out of segments,which can past hrough the manhole.The V-shaped (wedge wire) solution has a larger open area then the conventional milled plate falsebottom.UBO stainless steel wedge wire lauter tun false bottom adopt 100% certified 304L sanitary stainless steel manufactured to hygienic standards with 100% TIG welded joints and seams with sanitary interior polish to make lauter tun screen.
Usage for Mash Tun False Bottom
• Lauter tun screen
• Mash tun screen
• False bottom screens
• Custom made screens for retro-fit or new installations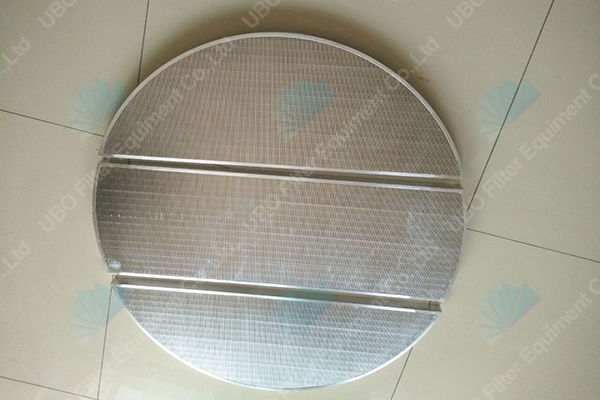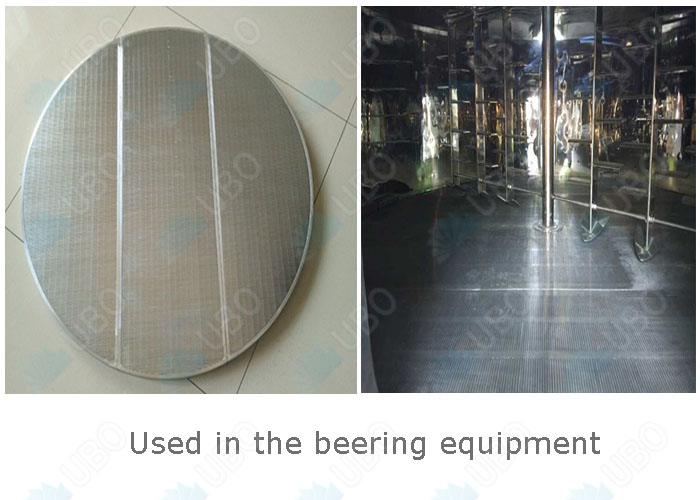 Specifications of Mash Tun False Bottom for Brewing Beer:
Normal Name

Lauter Tun Screen, Mash Tun Screen, False Bottom Screen, Etc.

Diameter Range

(MM)

200mm To 2500mm. Diameter Customized

Normal Diameter

(MM)

29", 30", 35", 37", 40", 45", 47", 59", 63", 74", Etc

Normal Slot

(MM)

0.7mm, 0.75mm, 0.8mm, 1.0mm, customized

Normal Thickness (MM)

8.5mm, 20mm. 25mm, 30mm, 40mm, 50mm, Customized.

Sections & Shape

1 Cycle, 2 PCS, 3 PCS, 4 PCS, 6 PCS, 8 PCS. Customized

Wedge Wire

(MM)

2x4MM Wedge Wire, 3x5MM Wedge Wire

Support Rod

(MM)

3x5MM V shaped Support Rod, 3x5mm Square Support Rod

Strengthen Rod

(MM)

Thickness and Height according to the diameter and screen thickness

Note

Usually customized.
Packaging and Transportation of Mash Tun False Bottom for Brewing Beer:
Package: in wood case or as required.
Lead Time: 5-25 days
You may also be interested in the following product(s)