wedge wire false bottom on sale
| | |
| --- | --- |
| Category: | Wedge Wire Screen Panel |
| Material: | Stainless steel 304,304L,304HC,316,316L,321,430 or as per your request. |
| Properties: | Lauter tun screen |
| Application: | Filters, strainers, architectural screens, water treatment underdrains, media support grids and overlays, infiltration gallery screens |
if you are interested in receiving more information or have a question with our products, please fill out the form above and we will contact you within 24-48 hours.
Email:sales@ubowire.com
Author: Lisa
Details of wedge wire false bottom on sale
The wedge wire false bottom on sale consist of profile wire and support rods with the materials of galvanized steel, low carbon steel and stainless steel 304, 316. Wedge wire screen can apply in chemical, oil, gas, food or beverage, waste water management, mining or coal separation. Whatever your application is, we can provide you with customized wedge wire screen products as your own requirement, including the material, the width, the length, the shape and other special rquire.
Application of wedge wire false bottom on sale
In the lautering process, the wort (the liquid containing the sugar extracted during mashing) is separated from the grains. This is done either in a lauter tun outfitted with a false bottom or in a mash filter. Most separation processes have two stages: first wort run-off, during which the extract is separated in an undiluted state from the spent grains, and sparging, in which extract which remains with the grains is rinsed off with hot water. The wedge wire false bottom on sale is designed to hold back the large bits of grist and hulls. The bed of grist that settles on it is the actual filter. False bottom screen have provisions for rotating rakes to cut into the bed of grist to maintain good flow. When the process is complete, a plow can be dropped to drive the spent grain out of the vessel.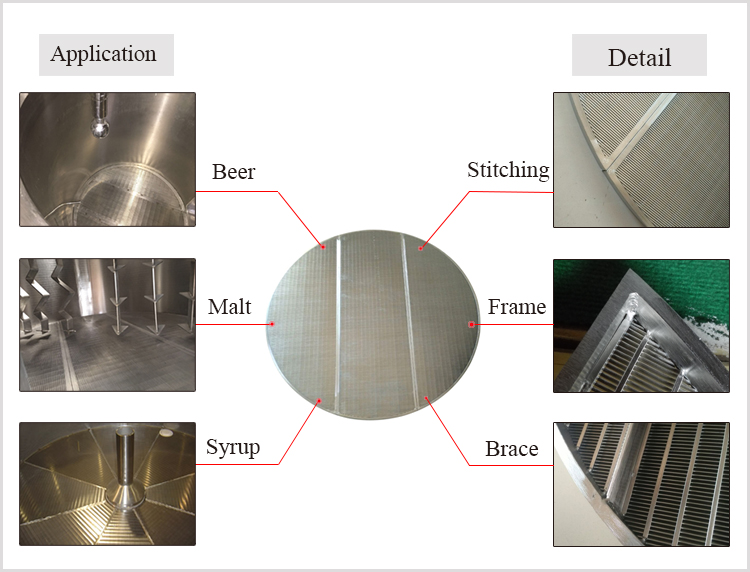 Specifications of wedge wire false bottom on sale:
Normal Name

Lauter Tun Screen, Mash Tun Screen, False Bottom Screen, Etc.

Diameter Range

(MM)

200mm To 2500mm. Diameter Customized

Normal Diameter

(MM)

29", 30", 35", 37", 40", 45", 47", 59", 63", 74", Etc

Normal Slot

(MM)

0.7mm, 0.75mm, 0.8mm, 1.0mm, customized

Normal Thickness (MM)

8.5mm, 20mm. 25mm, 30mm, 40mm, 50mm, Customized.

Sections & shape

1 Cycle, 2 PCS, 3 PCS, 4 PCS, 6 PCS, 8 PCS. Customized

Wedge wire

(MM)

2x4MM Wedge Wire, 3x5MM Wedge Wire

Support Rod

(MM)

3x5MM V shaped Support Rod, 3x5mm Square Support Rod

Strengthen Rod

(MM)

Thickness and Height according to the diameter and screen thickness

Note

Usually customized.
Packaging and Transportation of wedge wire false bottom on sale:
You may also be interested in the following product(s)