wedge wire grate manufacturer
| | |
| --- | --- |
| Category: | Wedge Wire Screen Panel |
| Material: | stainless steel 304,304L,316,316L,321,430 or as per your request. |
| Properties: | wedge wire grate |
| Application: | solid-liquid separation and recovery. Especially for beer waste water, papermaking wastewater, slaughtering waste water, juice processing wastewater |
if you are interested in receiving more information or have a question with our products, please fill out the form above and we will contact you within 24-48 hours.
Email:sales@ubowire.com
Author: Sally
Details of wedge wire grate manufacturer
Wedge wire grate is unique in nature as by design it reduces the possibility of clogging or blocking due to the inherent characteristics of the wedge shape of the wire and the surface area differential between the upper and lower sides of the wire.
Application for wedge wire grate
Wedge wire grate is designed for a variety of applications, both indoor and outdoors, commercial, industrial and hospital,the drain channels are easy to install, durable, resistant to many chemicals and solution for freeze, thaw applications, the flow rates equal to or greater than most larger poured-in-place trench drain grates.
Advantages forwedge wire grate
1. Production process continuity: V-shaped profile wires creating slots which enlarge inwardly and therefore avoid clogging and minimize downtime.
2. Low maintenance costs: Separation at the screen surface which can easily cleaned by scraping or back washing.
3. Maximum process output: Precise and continuous slot openings resulting in accurate separation without loss off media.
4. Low operational costs: Large open area with an effective flow, high yield and a low pressure drop (dP)
5. Long live: Welded at each intersection creating a strong and durable screen.
6. Reduced installation costs: supporting constructions eliminating costly support media and enabling a maximum flexibility in the design of components.
7. Chemical and thermal resistant: A variety of corrosion resistant stainless steel materials and many exotic alloys suitable for high temperatures and pressures.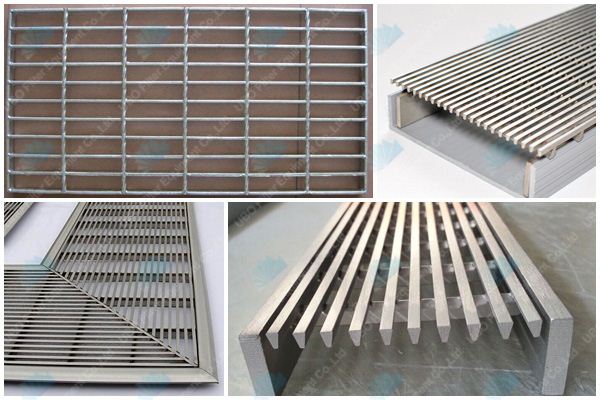 Specifications of wedge wire grate manufacturer: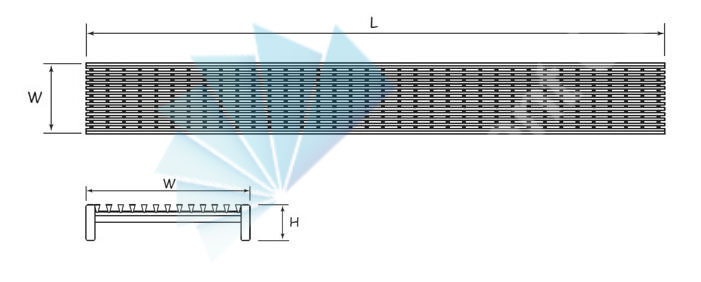 | | |
| --- | --- |
| Material | low Carbon Galvanized (LCG), Stainless Steel(SS) and Galvanized Steel. |
| Slot (mm) | 0.1、0.25、0.50、0.75、1.00、1.50、2.00、3.00 also achieved upon customer request. |
| Profile Wire | #63 (1.5*2.5mm), #93(2.3*3.5mm), #118(3.0*4.6mm) etc. |
| Support Rod | 1.V shaped. #63 (1.5*2.5mm), #93(2.3*3.5mm), #118(3.0*4.6mm) etc. |
| Steel Flat | Steel Flat: 1.5*20mm, 2.0*25mm, 2.5*30mm etc. |
| Frame | Iron Frame, Steel Frame, or Nothing. |
Packaging and Transportation of wedge wire grate manufacturer:
You may also be interested in the following product(s)